Hands All Around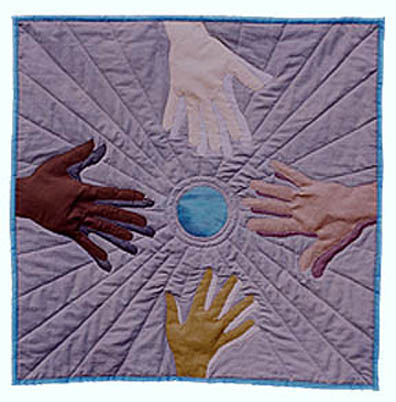 The idea for this quilt came from a photograph by Frank LaPena (Wintu-Nomtipom). He tells the story of the photo: "I have lived close to water for most of my life and know its power.... One could crawl along the shore and discover the universe in stones, in the color and textures of their materials, or one could wander through grottos of rock canyons and create that primal sound of flute and voice. Some of the artists and I found the universe of the four directions in a white schist cross on black granite, and placed our hands on the stone with earth's pigments to bring the symbol alive. We laughed and prayed, and when we finished, a light sprinkle of rain blessed our efforts with water. We were silent then, and when I talked about this later, I found my eyes brimming with tears."

This quilt is called "Hands All Around", which is the name of a traditional American quilt pattern. I chose and placed the colors for the hands according to the Native American way of associating a color with each of the four directions. The directions honor and symbolize various aspects of our lives. These colors come from the Lakota tradition.

north - white - old age, spirituality, strength, wisdom
east - red - birth, beginnings, awareness
south - yellow - youth, creativity, growth, action
west - black - maturity, change, introspection

It is said that when these colors are mixed together, they make brown, the color of the earth on which we all live together.


Date: 2000
Size: 21" x 21"
Materials/techniques: cotton, organza. machine appliquéd and quilted.
gift: Global Art Project 2000.
Published: Artwork for the brochure and invitation to Peace It Together: The Middle East Peace Quilt, by Genesis at the Crossroads. 2006.
Price: NFS
Home Book Art Quilts Quilt Repair Lectures and Workshops Costumes Resumé Contact