Portrait of the Artist as a...Refrigerator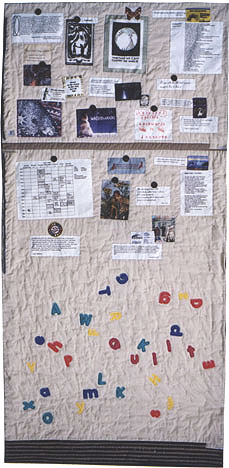 I came up with this idea when challenged to make a piece for a show entitled "Narrative Portraits". Refrigerator "stuff" provides a glimpse of where our lives are and what's important to us, and generally includes a good dose of humor, too. I love standing in my friends' kitchens reading their refrigerators. I use mine to post thoughts and images that remind me of my path, help me through my days. This quilt was a big step for me, my first adventure in what I like to call high-tech quilting. It's the first time I've ever done anything to the fabric besides cut and stitch it. It's also the funniest quilt I've ever made.
Date: 2000
Size: 36" x 67"
Materials/techniques: cotton, nylon, felt. color transfers, fabric constructions, machine quilted.
Shown: "Narrative Portraits", FACET travelling show: Museum of the American Quilters Society, Paducah KY/Miami Quiltfest, FL/Wichita Falls Art Center, TX/Bloomingdale Park District Museum, IL/International Quilt Festival, Houston TX/Southwest Florida Quilter's Guild, FL/Stocker Center, Lorain Community College, Elyria OH/Quilt Week Yokohama, Japan/Rocky Mountain Quilt Museum, CO.
and: Mighty Midwest Biennial, WI, 2003.
Price: NFS.
Home Book Art Quilts Quilt Repair Lectures and Workshops Costumes Resumé Contact