She Shares Her Splendor With The Sea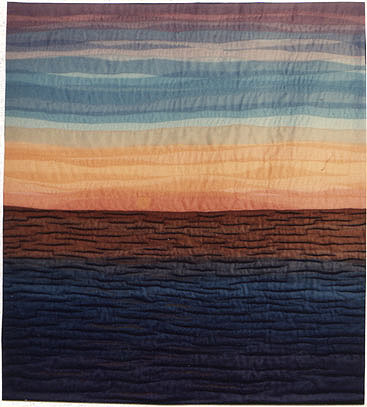 I wanted to make a quilt about sunsets over water for a long time, but waited until I figured out a technique that would approach the delicacy of color and texture that my eyes could see. Working with layered sheer fabrics finally provided that kind of detailing. While folding the tucks for the ripples and stitching the highlights, I played my tape of ocean waves on the beach. It was a great little vacation, and very inexpensive.
Date: 1989
Size: 39" x 43"
Materials/techniques: layered organza over cotton. machine appliquéd and quilted. beaded.
Shown: Personal Landscapes, 1990-92. Quilters' Paradise Symposium, FL, 1992. New York Quilt Festival, 1995. DeKalb Co. Quilters, IL, 1995.
Published: Patchwork Quilt Senka, summer 1991. My Patchwork Quilt in the World, vol. 2, 1992. Quilters Newsletter, Nov 1991. Connecting Stitches: Quilts in Illinois Life, Janice Tauer Wass ed., Illinois State Museum, 1995.
Price: $1100.
Home Book Art Quilts Quilt Repair Lectures and Workshops Costumes Resumé Contact