Quiet Reflection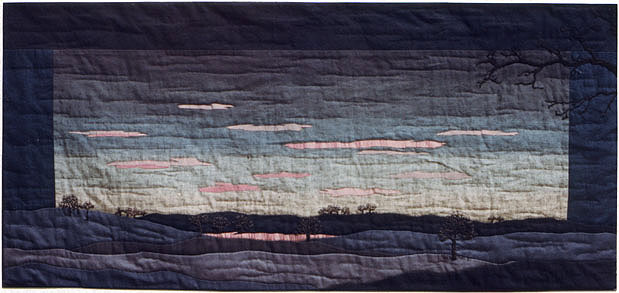 A quiet pond catches the last light of day - gentle fields at dusk, a fine setting for musing. Two quiet reflections.
Date: 1991
Size: 42" x 20"
Materials/techniques: Japanese cotton, cotton, silk. hand appliquéd, embroidered, and quilted. applied clouds. one bead.
Shown: Kentucky Fall Festival of Quilts, 1991. Illinois Quilters Inc., 1991. Uncommon Threads, WI, 1992. Evanston Women's Club, IL, 1993. Stocker Art Center, OH, 1994.
Awards: Viewers' Choice Third Place, Illinois Quilters Inc., 1991.
Price: sold.
Home Book Art Quilts Quilt Repair Lectures and Workshops Costumes Resumé Contact